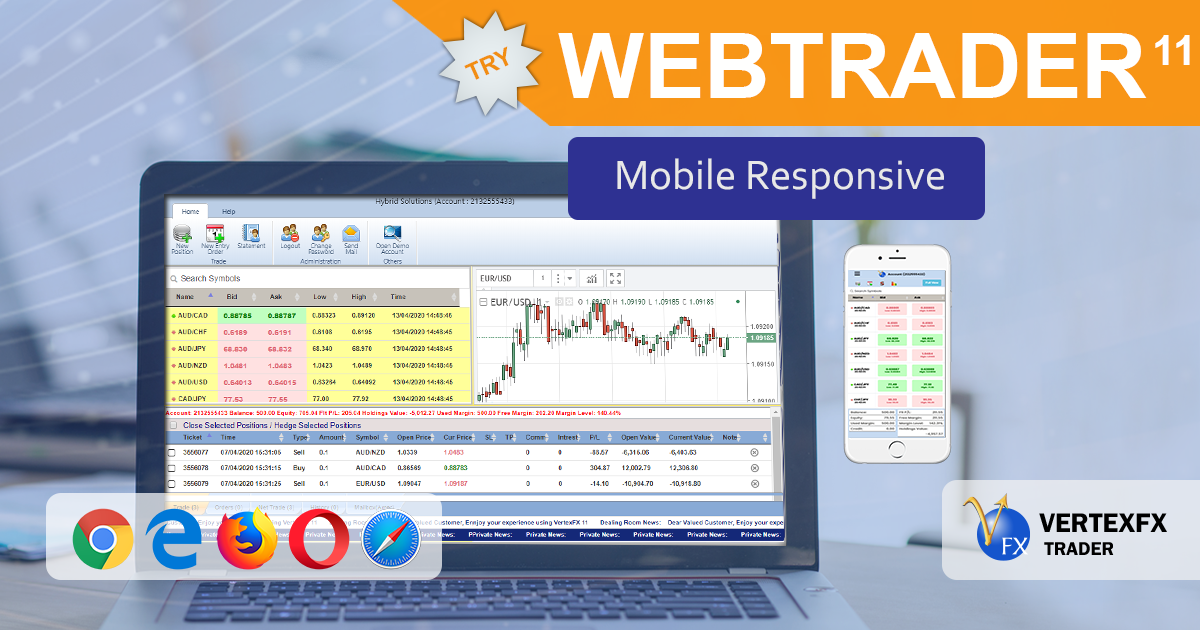 May 9, 2019

tarun@micropixel.co.in

0
Hybrid Solutions is pleased to announce the release of VertexFX11 Webtrader.
VertexFX11 webtrader is your any time, anywhere, any operating system gateway to your trading account.
VertexFX11 webtrader has many enhancements over the overall performance allowing you to trade with ease.
VertexFX11 webtrader has the majority of features in the client terminal and more like the trading cells, where you can trade by just one click, also adding the pushing notifications as the application notifies you whenever you receive a new mail or when an entry order executed and when your account gets liquidated.
For more information about VertexFX webtrader Click Here
Learn more about how to use VertexFX Webtrader by watching This Video
---
اعزائنا العملاء الكرام
يسر شركة هايبرد سوليوشنز أن تعلن عن منصة التداول فيرتكس اف اكس 11 ويب تريدر
فيرتكس اف اكس ويب تريدر هو بوابتك للتداول في اي زمان ومكان ومن خلال اي نظام تشغيل عن طريق حساب التداول الخاص بك
تحتوي منصة التداول فيرتكس اف اكس 11 ويب تريدر على العديد من التحسينات على الأداء العام مما يتيح للمستخدم سهولة المتاجرة والتداول في سوق العملات
تتمتع منصة التداول فيرتكس اف اكس 11 ويب تريدر بمعظم واهم المميزات الرئيسية الموجودة في منصة التداول الخاصة بالعميل فمثلا في شاشة خلايا التداول حيث يمكن للمستخدم التداول بنقرة زر واحدة بالإضافة الى العديد من المميزات والخصائص الجديدة كالاشعارات التي تظهر للمستخدم على المتصفح عند استلام بريد جديد او عند تنفيذ امر معلق او عندما يتم تصفية الحساب
لمزيد من المعلومات حول منصة الويب تريدر في فيرتكس اف اكس انقر هنا
تعرف على المزيد حول استخدام منصة الويب تريدر الخاصة بمنصة التداول فيرتكس اف اكس من خلال مشاهدة هذا الفيديو